I'm clearing out my book inventory for books that I sell at conventions and so on. Over the years I've added more books (mostly anthologies and non-fiction) to the collection of books I sell at events and it's becoming a little unmangeable, so I'm having a virtual garage sale.
The following books are available for only 99 cents plus media mail shipping on eBay.
Meanwhile, in another part of town, fledgling witch Matricaria has begun to receive psychic messages – vivid dreams and tarot card readings – that point to a terrible fate for someone near her. She and her coven attempt to decipher the symbols, hoping to prevent a tragedy.
Matricaria is studying to be a witch. Alicia is studying to be a computer programmer. Yet together they must learn to battle a common danger.
Can Matricaria, a mere trainee, decode the nightmares in time to save Alicia? Is Matricaria or her coven any match for a vampire who has lived for nearly a century?
Click
here to order Darksome Thirst from eBay
.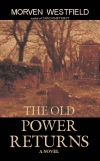 Things are not well in the fictional town of Danforth, a mere 25 miles west of the largest city in New England. No doubt the easy access to a large population of prey is an attractive feature for vampires.
Can Alicia, logic-worshipping proto-geek, stave off the vampire? Will Evan's congee burn in the pan? And what of the "Wizard of Westville"?
The Old Power Returns
is the sequel to
Darksome Thirst
, but I wrote it with enough background so that new readers can jump right in. This one's a little more fun than the first one, but doesn't skimp on atmosphere or chills.
Click
here to order The Old Power Returns from eBay
.